I have always been a Size 6 (Au) or an X Small size for over 7 years until I conceived. My weight was steady and I have always eaten clean and been fit. I had been practicing yoga at home for 7 years prior to conception. It was during my 12 week visit I was advised i had Hypothyroidism or low levels of TCH hence I had to take two pills a day to increase the TCH levels throughout my pregnancy. This lead to weight gain for me in my pregnancy. I gained 22 kg and I had never been this overweight in my entire existence. I went from an X Small to an X Large size.
After I had Rey, I was eating the postpartum ladoos, ghee, milk products which are recommended but I kept on gaining weight even after delivery. When Rey was 9 months, I returned to Melbourne after 3 months of being home. I decided I needed to do something to get back on track. I did not recognize this person I saw in the mirror. My confidence was nil, I couldn't fit in any of my pre-pregnancy clothes I was still wearing Maternity Jeans and tracks and I was going through huge body image issues. Especially being a blogger and being in the public eye made me even more conscious of my inability to bounce back like a few Mums and Mum bloggers I had seen on social media. I decided to get back to my lifestyle that I followed before I conceived.
I set short term goals and I did not follow any fads. I also consulted a nutritionist for advice but I did not follow any diets through the nutritionist.
5 Lifestyle Changes that I incorporated to Lose 20 Kgs after Pregnancy are
1) Yoga 30 minutes for 5 days a week
I went back to what I knew worked best for me pre-pregnancy and that Is Yoga. I needed to strengthen my back and my joints and started at the basic level of yoga. I started doing 20 mins for 3 days a week for about 6 months and then gradually increased it to 30 minutes of Yoga 5 days a week. Yoga is recommended after delivery because it helps with back strength, toning and tightening your curves and stomach and helps to reduce the gap that is created in your stomach after you deliver a baby also known as "Diastasis recti".
Yoga helps with breathing and mediation and improves blood flow and helps assist with digestive issues that affects most women after delivery. Joining a Gym or Yoga class or Pilates workout is a great way to start incorporating exercise in your regime. You also have personal trainers in gyms that can help develop a personalized exercise regime for you. So get moving, there is no shortcut to losing Weight and toning up.
2) Include Protein and whole grains in your Diet
Legumes, Pulses, sprouted grains, tofu, tempeh, eggs, lean chicken and turkey, oily fish are some fabulous sources of protein. Having Whey Protein in powder form added to your breakfast muesli or in a Bar form assists your Workout and helps tone those muscles. Protein keeps you fuller for longer and literally fuels your muscles. Incorporating Protein in every meal is key to eating clean and staying fuller for longer.
My husband introduced me to Whey Protein and I have been having that in my smoothies or Muesli for breakfast. On weekends its Eggs and mushrooms and spinach for breakfast or a Savory pancake made with vegetables and Mung bean and Quinoa flour. Dinner usually includes Prawns, Paneer or Tofu or Lentil Curries for me. Lunch can sometimes be boiled eggs pan fried or just roast veggies and Tofu or Vegetable Curry with Chillas made from Legumes or Dals. No fad diets for me, no skipping meals either.
Having dietary restrictions due to allergies means I have to eliminate certain whole grains but I compensate by eating grains that are gluten free. My pantry has milled flours made from Quinoa, Mung Bean, Besan, Rice Flour, Millet flour etc. I make Adai, pancakes, savory fritters using a combination of these with vegetables and herbs. I also eat Gluten free Muesli for breakfast that is made up with puffed Jowar, Buckwheat, other Millets that give me the fiber I need.
3) Reduce intake of Added Salt and Sugar
Towards the end of my pregnancy I started having Coca Cola and some other Fizzy Drinks due to having constant acid reflex, which I never used to have for years. This has so much sugar in it that is not good for you or your metabolism. They also have copious amounts of salt too that create havoc with your Thyroid function and Sympathetic nervous system. It was very difficult to get rid of this habit after delivery, it took me months to totally eliminate Cola and other fizzy drinks. I still have plain Soda water with a wedge of lemon sometimes if head to a party or I have guests coming over. I no longer feel the urge to have Coca Cola or even ginger ale like I used to.
I also got into a habit of eating something sweet everyday after delivery as I was home on maternity leave with my hormones all over the place and low confidence and anxiety made me reach out to sugar and chocolate. This was a hard habit to kick. I started by having a piece of dark choc to alternate days and now I indulge on the weekends only as those are my cheat days. The idea is to eat clean through the week and not deprive yourself either. I have a protein bar instead on weekdays which is not only curbing my sweet cravings but being high protein fills me up and does not have any added sugar either. This is a win win for me.
I dont have sugar in tea since like 20 years now but, if you cannot have unsweetened tea there are natural sweeteners like Stevia or Natvia in the market or you can try adding honey to your tea. Salty chips are my weakness, I can sit and finish a packet of chips in 5 minutes but I dint realize this was making me bloat really bad. In November last year I decided on my husband's behest to stop bringing home packet of chips and believe me I stopped bloating altogether and the results proved that I didn't really need that added on salt. Using pink salt is a great alternative, Himalayan salt or Jada namak is better for you. Excess salt makes you retain water especially if you have had Thyroid issues in pregnancy like me, avoid any kind of salty snacks wherever possible.
4) 6-8 Hours of Sleep every night
New Mums often have disrupted sleep cycles and rarely get more than 5 hours of uninterrupted sleep. My sleep patterns have never gone back to pre-pregnancy sleep schedules but I aim to get 6 hours of sleep minimum at night. Every person differs but it recommended that Women should get 7 to 8 hours of sleep every night. With toddlers, that is mostly not achievable but If you are home and can manage a nap that helps relax and restore your batteries. I try to nap on Saturday afternoons to balance out the sleep I might miss on weeknights.
I have noticed how improving my sleep cycle helped me to stay more motivated to exercise leading to improve metabolic levels and leading to losing weight.
5) Self Love and Not caring about what Others think
I have written an entire post on Self Love here. Truly embrace your self whatever stage you may be at and whatever shape your might be in after you have had your baby. Surround yourself with positive people who are part of your inner circle and cancel out the noise. These people help you stay motivated to achieve your goals even when you feel down and out. Loving oneself will help you motivate yourself to stand up and take charge and plan a strategy to reach your weight goals ( and other goals).
These 5 Lifestyle Changes made me loose 21 kg and drop down 4 dress sizes. It has helped me value my determination, my grit and my ability to stand up against all odds including self doubt. It made me resilient against all the white noise that I was subjected to by friends and family members and even some followers on social media who felt the need to tell me how I had to accept I was going to be a big girl now and how it was imperative to gain weight and remain at that weight after one has a baby. I chose to remain silent, and chose to concentrate on achieving my weight goals. I am also super proud I did not go in for any crash diets, fads and neither did I go to any Gym. I hope to motivate all Women to incorporate exercise and improve your diet after you have had a child. It is important to be healthy and be in a healthy weight range.
This Post is part of #LetsBlogwithPri which is  a Blog Train hosted by Prisha Lalwani, Author at Mummasaurus. I would like to introduce Disha from Lifemyway. Do check out their Blog posts for #LetsBlogwithPri .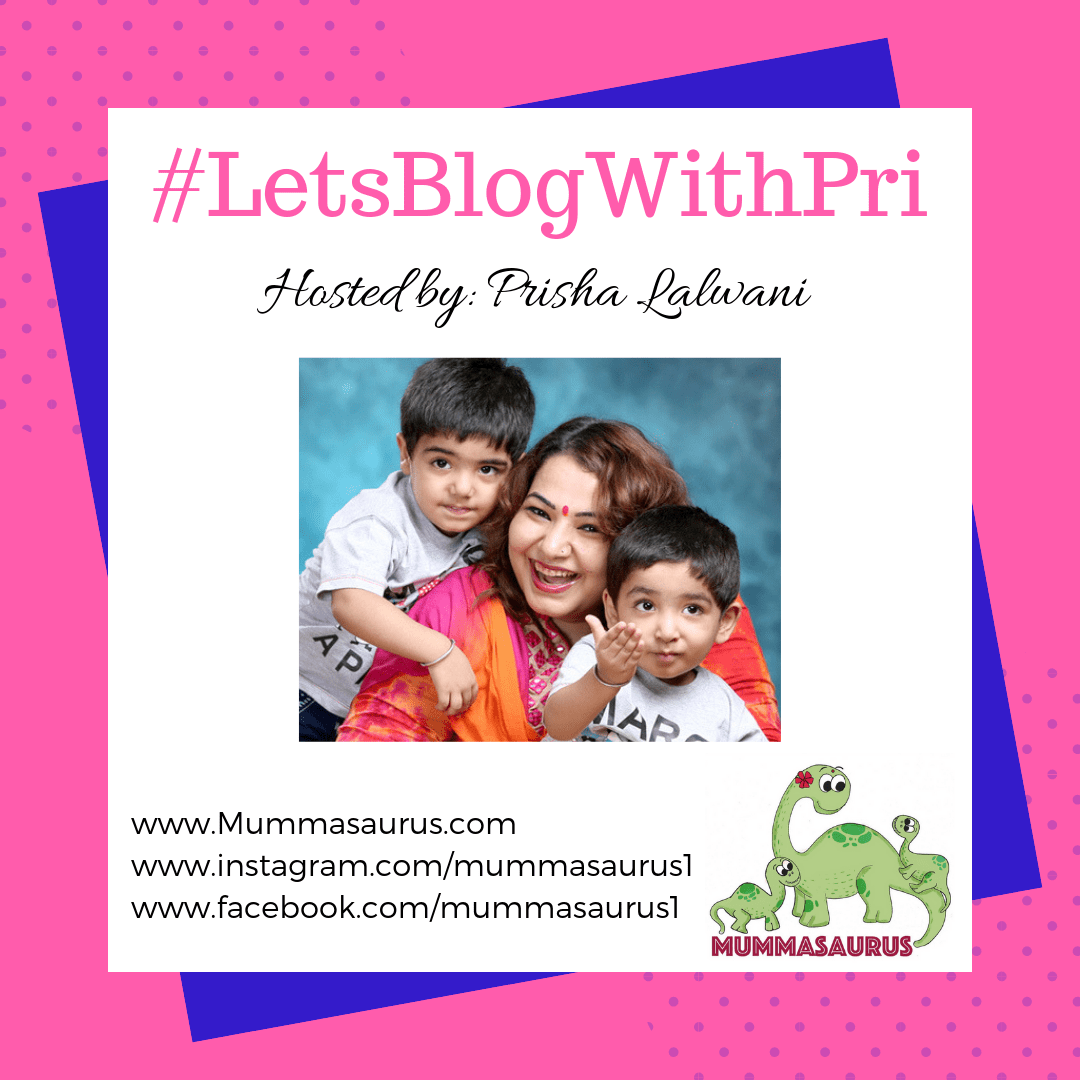 Hosted By :Prisha LalwaniMummasaurus.comIG: @mummasaurus1FB: /mummasaurus1